Dr Kim Tan
Dr Tan is the founder Chairman of Springhill Management Ltd, a private equity and VC fund management company specialising in biotech and impact investments. He is a partner and advisor to a number of impact funds including Springhill Equity Partners, Novastar Ventures, Inqo Investments, Truestone Impact Investment and Garden Impact Investment. He is a board member of the Asia Pacific Economic Cooperation (APEC) Life Sciences Innovation Forum and the University of Surrey. He has a PhD in biochemistry and is a Fellow of the Royal Society of Medicine.
Dr Ayanda Sigwela
Dr Ayanda Sigwela is a restoration ecologist. He provides scientific advice on a wide range of on-the-ground restoration projects funded by the South African government's Working for Woodlands programme in the Eastern Cape. His main projects include large-scale restoration of degraded thicket using spekboom cuttings in Addo Elephant National Park as well as the Pedi communal area near the Fish River. He has also helped to restore coastal forests using a range of different forest tree species in the Transkei. In his PhD thesis, Ayanda examined the effect of goat degradation on ecological processes in thicket, including the survivorship of thicket seedlings. After his PhD, Ayanda worked for South African National Parks as their restoration ecologist for four years.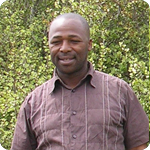 David Andrew Louw
David Louw is a chartered accountant (SA) with wide experience in the Hospitality, Media, Agriculture (wine and game) industries. David was previously a director and shareholder of the Protea Hotel Group and Radio Kfm (CEO). He is currently on the board of a number of privately owned businesses operating in game farming, hospitality and wine farming industries.
Noel Mills
Noel Mills has been involved in property, investment and finance in South Africa and internationally. In 1997, Noel retired and bought the farm Rockwood in the Cederberg Mountains, where he has been farming protea flowers and buchu oils with his wife Pam ever since. Restoration of thicket on a large scale will require acumen and experience in property, business and farming. Noel's experience in all of these fields is consequently of great importance for realising Spekboom Trading's vision of large scale thicket restoration with investors and other participants.